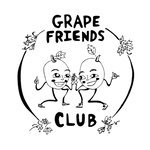 a curated monthly subscription...
We'll focus on a specific region, varietal, or we'll mix it up with bottles we're currently digging.

The selection will always include 1 red wine - the others will be a mix of white, rosé, orange or sparkling. 

Pick up day is at the shop on the 4th Friday of every month. Members receive 15% off all store products on pick up day + free tastings! Cut off day for new subscribers is on the 5th day of every month.
*Due to storage limitations, any wine club bottles left 21 days past the initial
pick-up date will no longer be available. Refunds will not be issued.
We apologize for the inconvenience!